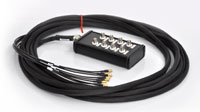 Our Breakout-Box has a light-weight, but robust case from alumium and is designed for application on machines, laboratory workplaces or in the automobile industry.

The Breakout-Box is available in various versions:
with4, 6 or 8 BNC-sockets. You can either choose the cable length of the supply line and the plug connectors on your own or take the lengths recommended by us.
A customer specific completion is possible without  additional expenses. All cables are connected individually with the plug connectors in the box and  joined by a PG gland as well as a braided hose. Each plug connector can be clearly …