The new cable configurator is here! Order your desired cable assembly now even easier – simple and fast online. You can now choose between different manufacturers.
Cable configurator – order cables online!
Assemble the suitable coaxial cable assembly for your application. Choose from more than 80 cables in 50R und 75R and more than […]
Continue Reading

→
We offer suitable high voltage lines assembled with SHV, MHV and BNC-HT connectors.
Application areas: Metrology, internal lines, high voltage applications
HV-Lines Article max. freq.
(GHz) Attenuation
bei 2 GHz/m Outer
material Outer
Ø (mm) Outer
Ø (inch) 1,4 KV Continue Reading →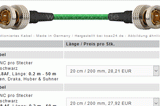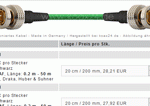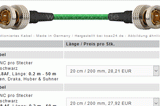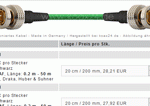 You can choose between assemblies, which are assembled exclusively with brands of well-known manufacturers, and assemblies by manufacturers, who are less well-known. This does not mean, that the quality of the connectors and the resulting cable assemblies are worse or worth less. But it might be an option for especially price-sensitive applications, as the assemblies […]
Continue Reading

→
DIFFERENCE COAXIAL AND NORMAL LINE!
The conductor is insulated from the shielding by a dielectric and is located in the centre of the cable. The geometry must be very accurate and precise. If a coaxial cable is bent with a lower bending radius than permitted, the electrical values are not met anymore and the cable […]
Continue Reading

→
Search

We are at your service!

+49 721-6057 100
Phone Monday - Thursday
8:30-12 CET / 13-16:30 CET
Friday 8:30-12 CET
Tel. +49 721 6057100



Legal matters

All trade marks are property of their respective manufacturers - errors excepted -
All rights reserved.
All texts, images, graphics, mulitmedia files as well as the layout are subject to copyright and the laws protecting intellectual property.
The further processing may not be carried out without the explicit consent of arnotec GmbH