Just-in-Time production and deliveries
At koax24/litze24 you receive 95% of your orders at the exact time agreed. Are punctuality, quality and reproducible results important to you? Then you found the right partner in us. Due to our sophisticated order control concept, we can guarantee a just-in-time production and delivery.
Suppliers are controlled regarding […]
Continue Reading

→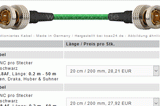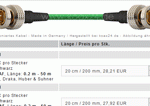 You can choose between assemblies, which are assembled exclusively with brands of well-known manufacturers, and assemblies by manufacturers, who are less well-known. This does not mean, that the quality of the connectors and the resulting cable assemblies are worse or worth less. But it might be an option for especially price-sensitive applications, as the assemblies […]
Continue Reading

→
Our Breakout-Box has a light-weight, but robust case from alumium and is designed for application on machines, laboratory workplaces or in the automobile industry.

The Breakout-Box is available in various versions:
with4, 6 or 8 BNC-sockets. You can either choose the cable length of the supply line and the […]
Continue Reading

→
Search

We are at your service!

+49 721-6057 100
Phone Monday - Thursday
8:30-12 CET / 13-16:30 CET
Friday 8:30-12 CET
Tel. +49 721 6057100



Legal matters

All trade marks are property of their respective manufacturers - errors excepted -
All rights reserved.
All texts, images, graphics, mulitmedia files as well as the layout are subject to copyright and the laws protecting intellectual property.
The further processing may not be carried out without the explicit consent of arnotec GmbH