Coaxial cable basics
The world of coaxial cables causes justified confusion for many. Countless connector types, cable types, materials and much more need to be considered before you can safely assign the appropriate cables to your application. We at koax24.de have made it our task to break down the basics of coaxial cables in a clear and understandable way in order to provide both newcomers and experienced professionals with a guide that can protect them from frustration during research and possible wrong orders.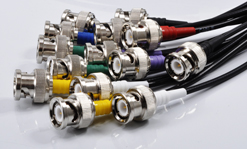 Cable assembliesIn the following articles, we will introduce you to the basics of connector selection, cable selection and choosing the right material for the cable sheath, all tailored specifically to your application.