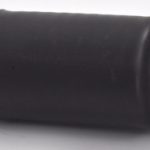 Corrugated tube
The flexible hose or flexible tube, is a safe to walk on hose made of polyamide P6. With this kind of protection it is possible to bundle several lines in a tube and protect them from external influences.
Common sizes:
Inner diameter: 7 mm, Outer diameter: 10 mm
Application area:
Installation Mechanical […]
Continue Reading

→
PTFE Polytetrafluoroethylene, also known by the brand name Teflon®, dissolvent and temperature resistant up to 260°C, best electrical properties, but high material costs. PTFE is a hard material and is used as dielectric and as cable sheath.
Coaxial cables with PTFE sheath in our online-shop
We […]
Continue Reading

→
Thanks to our flexible and fast cable assembly, you have the opportunity to purchase customized cables at very reasonable prices.
We supply to all sectors from the automotive industry to the civil aviation sector.
High Quality – Connectors and cables only from well-known brands Cable assembly – manufactured in Germany Individual cable length and labeling […]
Continue Reading

→
The LEMO 1S System is bigger than the Series 0S. Varius contact inlets for coaxial and single contacts are available.
Reliable Push-Pull-System Every length available – Cable in RG174, RG316, RG179, RG58, RG59 and RG188 et al. High quality – Cable grip with or without kink protection available All pllug types combinable Individual cable labelling […]
Continue Reading

→
Search

We are at your service!

+49 721-6057 100
Phone Monday - Thursday
8:30-12 CET / 13-16:30 CET
Friday 8:30-12 CET
Tel. +49 721 6057100



Legal matters

All trade marks are property of their respective manufacturers - errors excepted -
All rights reserved.
All texts, images, graphics, mulitmedia files as well as the layout are subject to copyright and the laws protecting intellectual property.
The further processing may not be carried out without the explicit consent of arnotec GmbH