New product:
The distribution of measuring signals to machines and measuring stations is now even easier thanks to our new Breakout-Box!
The housing of the Breakout-Box consists of stainless steel and is provided with 4 mounting holes for installation on a wall or on machine parts. The back side […]
Continue Reading

→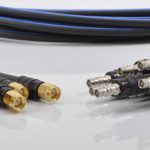 Are you looking for a special cable?
Then you´ve come to the right place. According to your wishes and requirements, we produce individual cables. We also produce coaxial cables suitable for your application.
For this purpose, you can select from all connection types and connectors. Below, you see a small selection from our previously […]
Continue Reading

→
A coaxial cable consists of two concentric conductors, which are seperated by a dielectric and by a screen. Fields of applocation for coaxial cables are video technology, electrical measurement as well as applications, where radio signals have to be transferred without loss.
A double screened coaxial cable is presented here
Structure of a double screened coaxial cable:
[…]
Continue Reading

→
Information SMB Plug / Socket – Comparison SMC
SMB Plug connectors are used for frequencies up to 4 GHz and are in contrary to SMC-plug connectors only stacked and not screwed. They are principally used for device internal connections.
Cables in the shop: Name Addition Prices from Coaxial cable RG174, L=1,00 m SMB-socket 90° <–> […]
Continue Reading

→
Search

We are at your service!

+49 721-6057 100
Phone Monday - Thursday
8:30-12 CET / 13-16:30 CET
Friday 8:30-12 CET
Tel. +49 721 6057100



Legal matters

All trade marks are property of their respective manufacturers - errors excepted -
All rights reserved.
All texts, images, graphics, mulitmedia files as well as the layout are subject to copyright and the laws protecting intellectual property.
The further processing may not be carried out without the explicit consent of arnotec GmbH