Semi Rigid coaxial cable
Semi rigid coaxial cables are rigid coaxial cables whose shape is more reminiscent of tubes than classic cables. The inner conductor consists of a solid copper wire (tinned or silver-plated) and in some versions, such as the Sucoform from Huber+Suhner, the sheath is also tinned.
The advantage of semi-rigid coaxial cables is that the leakage radiation and the attenuation, especially at higher frequencies (in the GHz range) are lower than with conventional coaxial cables. The range of use is limited to applications where no mechanical mobility of the coaxial cable is necessary, such as cabling in equipment or for fixed installation. The final shape can be determined by bending once, after which further deformation is usually no longer possible.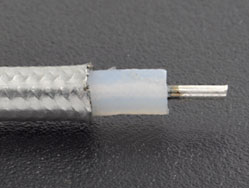 Semi Rigid coaxial cables are mostly used in applications above 10 GHz, whereby different cable types can have different frequencies.
Do you need a cable assembly with semi-rigid cables? These can also be easily assembled in our cable configurator.
Semi Rigid – hand-formable cable
Structure of a semi-rigid coaxial cable:
1 = inner conductor – solid wire or stranded wire version (1b)
2 = Dielectric / Insulation
4 = Outer jacket
These include:
---
---
New