Protective tube steelflex for coaxial cables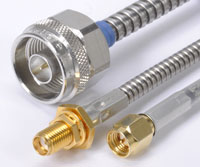 Highly flexible and very resistant protective sheath with FLEXASteel. Internal diameter of the hose available from 3 mm to 14 mm. Reinforcement and protection of your coaxial cable through additional protective sheath made of steel. The used coaxial cables in use on machines and in the automotive sector are thus more durable.
Our spiral-coiled hoses up to + 400 ° C are available upon request.
Tested IP40 to EN60529.
Application area:
Machines with flying sparks,
Protection of the coaxial line against damage,
enhanced rub resistance and kink protection
More information: Metal protective tubing
Protective tube steelflex
Protective metal tube 5,0/7,0mm
SPR-VA 1018.801.005
120107
Protective metal tube 3,0/5,0mm
SPR-VA 1018.801.003
120116
Protective metal tube 6,0/8,0mm
SPR-VA 1018.801.006
120134
Protective metal tube 4,0/6,0mm
SPR-VA 1018.801.004
120165