Cover caps – Closure caps – Protective sleeves for cable assemblies
Now new in our range: Cover caps and protective sleeves for cable assemblies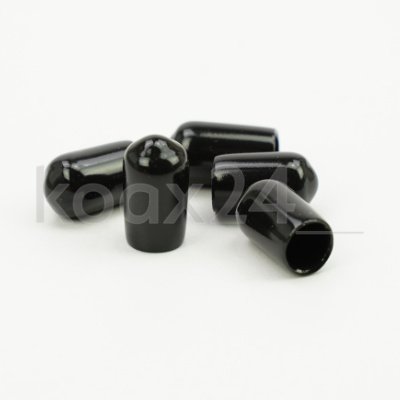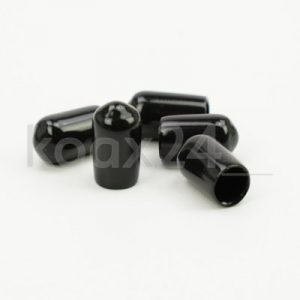 Protect connectors from dust and dirt
To protect sensitive connectors, we have included suitable dust and transport protection covers as accessories in our range.
Unless otherwise stated, the matching transport protection we offer always applies to the entire connector series, i.e. both plugs and sockets.
Our sleeves provide ideal protection against mechanical influences, dust and moisture by firmly and tightly connecting the connector to the housing.
They are also characterised by their reusability!
They can be used more than once and are therefore perfect for storing and transporting different high-quality cable assemblies or for protecting our Breakout boxes.
---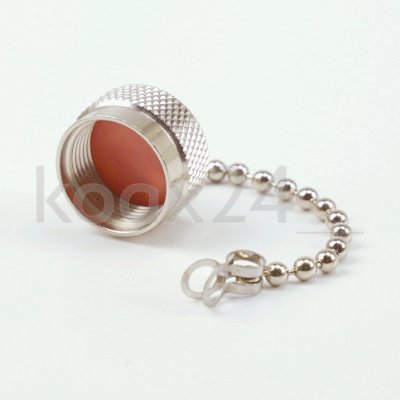 Durable protection against dust and protection – cover caps
Now discover another way to protect your connectors from external influences with our cover caps. In industry, these are mainly used to shield dust and moisture and are therefore an ideal cover for unused connectors, e.g. in our breakout box with multiple connections.
Most caps are made of metal and have a built-in seal to prevent moisture ingress. You can always find more information in the corresponding data sheet of the cap.
For convenient handling, our cover caps are also optionally available with chains so that they do not get lost when not in use. Every cover cap in our range is waterproof according to IP67 or IP54.
Protect your cable assemblies with our new caps now!
| | | | |
| --- | --- | --- | --- |
| Designation | Additional text | | |
| Cover cap with chain for N and UHF plugs | IP54 | H00010A0000 | |
| Cover cap without chain for N socket | IP67 | H00010A1121 | |
| Cover cap with chain for N and UHF socket | IP67 | H00010A1122 | |
____________________________________________________________________________________________________________________
Cable assembly with our Cable configurator:
Choose your suitable combination from over 200 different plugs and sockets and over 80 different cable types. Fast production due to large storage capacity and manufacturing in Karlsruhe! You can easily select your individual cable with our interactive configurator for 50Ohm and 75Ohm coaxial cables using pictures and related information – order online and it can be with you the next day!
New: Cable assembly sorted by connector and cable!
RG178 | RG196 A/U | RGL196 LowNoise | KAPTON 1.45MM | LN5001 LowNoise | Sucoform 86 | RG174 A/U | RG174 LSNH | RG188 A/U | RG316 /C | RG316 /U | RGL316 LowNoise | RG316D – RD316 | ENVIROFLEX 316D | CLF100 | LMR 100A | LN5002 LowNoise | BEDEA MXR 0.45/1.4L, LowNoise | PE-P086 | Multiflex 86 | Sucoform 86 FEP | Sucoform 86 LSFH | K 02252 D | SS405 | Multiflex 141 | Sucoform 141 | Sucoform 141 FEP | PE-P141 | SS402 | RG58 | RG058 | RG58 ALL | arnoflex 58 LSNH | RG58 PUR | Enviroflex 142 | RG142 | LL142 | RG223 U | Enviroflex 400 | RG400 | H-155 PE | H-155 FRNC | H-155 PVC | WC-55 PE | HyperFlex 5 | CLF195 | CLF200 | CLF240 | LMR 195 | LMR 195 UF | HF 195 ZH | LMR 200 | LMR 240 | LMR 240 UF | HF 240 ZH | Airborne 5 | Aircell 5 | 7806A | S_04212_B | S_04272_B | SPUMA_240-FR-01 | Aircell 7 | arnoflex 7 UF | HIGHFLEXX 7 | SCF14-50J | RG213 /U | RG214 /U | arnoflex 214 LSNH | LMR 400® | LMR 400 UF® | HF 400 LSNH | HyperFlex 10 | Ecoflex 10 | Ecoflex 10 Plus | Aircom Premium® | Ecoflex 15 | Ecoflex 15 plus | LMR 600 | LMR 600 FR |
---
---