Breakout Box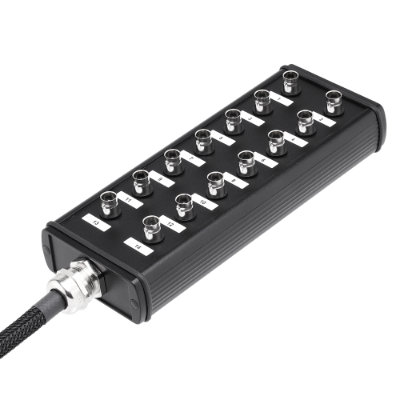 The clever distribution of the measuring signal to the measuring device
With the arnotec connection box, you have the possibility to distribute your measurement signals reliably and simply. The device can be installed and reconnected in a completely uncomplicated way, so that the monitoring of different measuring points is no challenge. Flexible mounting, for example in a control cabinet or on the wall, facilitates integration into your application.
Since each connector is insulated from the housing as standard and each cable is shielded all the way to the end, our connection boxes offer you the highest possible quality and freedom from interference.
Matching labelling on the unit and on the cable ends minimises the risk of confusing the connections and ensures uncomplicated installation of the breakout box.
As standard, we manufacture breakout boxes with 4, 6, 8 or 10 BNC sockets, but we are happy to deviate from this to ensure that our device meets your requirements even better. The number of connections as well as the connector and cable types and the cable length can be selected as far as possible. Please do not hesitate to contact us, preferably using the ready-made enquiry form on our homepage.
____________________________________________________________________________________________________________________________________________________________
Cable assembly with our cable configurator:
Choose your suitable combination from over 200 different plugs and sockets and over 80 different cable types. Fast production due to large storage capacity and manufacturing in Karlsruhe! You can easily select your individual cable with our interactive configurator for 50Ohm and 75Ohm coaxial cables using pictures and related information – order online and it can be with you the next day!
New: Cable assembly sorted by connector and cable!
RG178 | RG196 A/U | RGL196 LowNoise | KAPTON 1.45MM | LN5001 LowNoise | Sucoform 86 | RG174 A/U | RG174 LSNH | RG188 A/U | RG316 /C | RG316 /U | RGL316 LowNoise | RG316D – RD316 | ENVIROFLEX 316D | CLF100 | LMR 100A | LN5002 LowNoise | BEDEA MXR 0.45/1.4L, LowNoise | PE-P086 | Multiflex 86 | Sucoform 86 FEP | Sucoform 86 LSFH | K 02252 D | SS405 | Multiflex 141 | Sucoform 141 | Sucoform 141 FEP | PE-P141 | SS402 | RG58 | RG058 | RG58 ALL | arnoflex 58 LSNH | RG58 PUR | Enviroflex 142 | RG142 | LL142 | RG223 U | Enviroflex 400 | RG400 | H-155 PE | H-155 FRNC | H-155 PVC | WC-55 PE | HyperFlex 5 | CLF195 | CLF200 | CLF240 | LMR 195 | LMR 195 UF | HF 195 ZH | LMR 200 | LMR 240 | LMR 240 UF | HF 240 ZH | Airborne 5 | Aircell 5 | 7806A | S_04212_B | S_04272_B | SPUMA_240-FR-01 | Aircell 7 | arnoflex 7 UF | HIGHFLEXX 7 | SCF14-50J | RG213 /U | RG214 /U | arnoflex 214 LSNH | LMR 400® | LMR 400 UF® | HF 400 LSNH | HyperFlex 10 | Ecoflex 10 | Ecoflex 10 Plus | Aircom Premium® | Ecoflex 15 | Ecoflex 15 plus | LMR 600 | LMR 600 FR |